Today we welcome Tiffany from Peanut Blossom. Mmmmm, Honey Crisps are my favorite! ~Zina
"Mommy, how do farmers make apples?"
I stopped in the middle of prepping dinner and turned around. Was this just a slip up in verbiage: "make" vs. "grow"? Or does the question run deeper? In some ways, her choice of words made sense to me. I was in the middle of "making" our dinner after all. My five year old was intently watching me chop and combine food for a casserole, something "made up of" several ingredients.
But how do you explain that an apple is a basic ingredient,
a building block kind of food that has to come from nature?
The "where does our food come from" topic is one that is very important to me. I've made a concerted effort to bring my girls grocery shopping.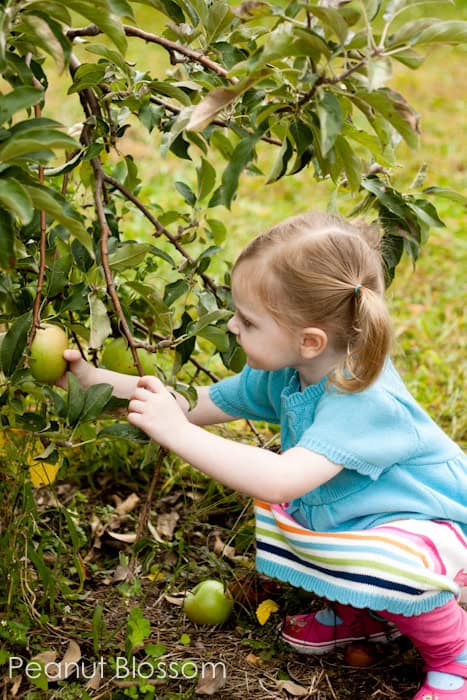 We take long strolls through the produce department naming off all the items we see. Since moving to North Carolina, I've been taking them to fruit stands and farmer's markets whenever possible.
I let them select the items to put in our cart and try to talk about the qualities of fresh produce I'm looking for: "Find ones that are bright red. Smell it to make sure it is sweet. Avoid the bruises. Be gentle, don't drop it!"
Every summer and fall, I make a special effort to take my kids to an actual pick-your-own farm so they can experience picking fruit directly off the plants. Our annual strawberry and apple sessions are becoming treasured family traditions.
We head out to the fields and come home with baskets of produce. Together as a family, we make jams, pies, sauces, crisps, and various dinner accompaniments. Strawberries and apples are not a tough sell in our home as it is, but…
…the girls especially love it when I can respond yes to their questions of
"Did I pick this?!"
The key to a successful family picking sessions is being prepared ahead of time with recipes. You don't want to end up having the food to waste. So in honor of apple harvest time, below are my Top 5 Apple Recipes:
1. Apple Crisp: Assemble this recipe into 2 8×8 pans and you have a brilliant freezer stocking dish.
2. Homemade applesauce: EASY peasy and a kid's classic for sure. I also keep huge batches portioned off into small containers in our freezer.
3. Sea salt & vanilla caramel dip: Please don't buy those plastic tubs of questionable ingredients at the grocery store. This recipe blows it right out of the water and is made from all natural things. Hardly a "health item", but at least you know what is going into it. I slice up large bowls of apple slices, sprinkle a little fresh lemon juice over them, and then put out small individual dishes of this dip for family game nights.
4. Apples & Laughing Cow Cheese: The healthiest snack on this list but wow what a difference that little cheese wedge makes to the fresh crispy apples!!
5. Roasted sausages, potatoes, onions, & apples: This was a new dish for my family this year and it was a huge hit. The only prep work you'll need to do is chop an onion and an apple, so this might actually qualify as a 1 minute meal. (Not including baking time, of course.)
How about you? What are your favorite apple recipes this time of year? Or are you more of a pumpkin fan? I'd love to chat with you in the comments below!


……………………………………………………………………………………………………………………………………………….
About Tiffany Dahle
Tiffany believes strong families start with strong and happy mothers. Too often as women we put everyone's needs before our own. At Peanut Blossom, she encourages you to develop everyday possibilities for stretching your creativity while doing what you do to keep that household running! She strives to help mothers and teach her own children that having kids does not mean the end of your own personal growth and learning.
Find Peanut Blossom online at: Blog | Pinterest | Facebook | Twitter | Google+
……………………………………………………………………………………………………………………………………………….
Pin it: