Store-bought popsicles ... They're expensive and high in sugar-content. They also have ingredients we cannot pronounce and do not want to feed our kids. Ditch them this summer!
Below are seven must-try natural popsicle recipes for YOU and your family to try out this year instead.
I admit, despite wanting to make homemade popsicles, ours always seemed to fall short. The scientist in me needed to know why.
It turns out, the critical factor is T I M E. The main difference between a store bought popsicle and what we make at home is the SIZE of the crystals in the frozen product. The faster something freezes, the smaller the crystals are. The smaller the crystals, the finer the texture. It's simply not possible to get that texture with a tradtional mold at home!
Enter Zoku. Have you heard of this amazing little piece of kitchen technology? It makes popsicles in 7-minutes flat, no electricity required (remember, faster freezing means better texture!).
Are you new to Zoku? Be sure to read these tips before you get started!
Better Than Store-Bought Popsicles: 7 Tips for Perfect Zoku Pops
Let's get started...
7 Must-Try Zoku Pops Recipes
You really can turn any liquid into a popsicle with the Zoku Quick Pop Maker - it's an endless world of possibilities. Here are some of my favorite recipes and resources!

I made this recipe for the first time for this post and I have got to tell you: to quote Guy Fieri, these are OFF THE HOOK. I do believe they are my favorite popsicle EVER. A must make! See full recipe on Fork Knife Swoon.
2. Strawberry Orange Pops
Just blend fresh or frozen strawberries and orange juice!
Steep ginger peach tea with slices of fresh ginger, add some simple syrup, then blend frozen peach slices in! Check out this recipe from Will Cook for Smiles.

4. Blueberry Yogurt Stripes
Alternate layers of blueberries blended with water or simple syrup and vanilla yogurt - check out this red, white, and blueberry patriotic recipe.
Blend limeade and watermelon! So yum! Visit Savory Lotus for a version of the recipe.
Store bought versions of this classic treat have over thirty ingredients, this Zoku Pops version from Simple Healthy Kids has FOUR. Check out this must-try recipe.
7. Lemon Ricotta
I couldn't find a recipe for these so I decided to create my own and they were incredible.
Lemon Ricotta Popsicles
A perfect healthy treat for those hot summer days!
Ingredients
½ cup Ricotta cheese
¼ cup Lemon juice
Lemon zest (optional)
2 tablespoon Simple syrup (equal parts sugar and water), alternately 1 tablespoon sugar and 1 tablespoon water
Instructions
Place all ingredients into a blender and puree until thoroughly mixed (1-2 minutes). Chill.
Pour into Zoku Quick Pop maker mold or other popsicle molds.
Freeze and enjoy!
Nutrition Information
Yield

3
Serving Size

1
Amount Per Serving
Calories

102
Total Fat

3g
Saturated Fat

2g
Trans Fat

0g
Unsaturated Fat

1g
Cholesterol

13mg
Sodium

46mg
Carbohydrates

14g
Fiber

0g
Sugar

11g
Protein

5g
Disclaimer: Nutrition calculation is automatically calculated and may be inaccurate.

Be sure to read these tips before you get started!
Better Than Store-Bought Popsicles: 7 Tips for Perfect Zoku Pops
Additional Notes and Resources:
PS: The Zoku Pop makers come in Single, Double, or Triple models (learn more here), meaning you can make one, two, or three Zoku pops at once. You can use almost any liquid to create a popsicle. Enjoy experimenting!
Read More About Zoku on Amazon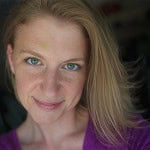 Carey Pace believes that beauty waits to be uncovered in the ordinary moments of everyday life. She chases creative motherhood, honesty in her writing, and images that tell stories.  Her faith in Jesus inspires her to explore and share the trials and triumphs of raising children while designing magical moments along the way.  She is a seeker of Light, a starter of projects, a reader of books, a lover of food and flavor, and an encourager to others. She and her husband Shawn reside in Tennessee with her son and daughter.  
You can find Carey's writing and photography on Facebook, her blog, Instagram, and Pinterest.
Share on Facebook: