Children are always fascinated by a change in size.  Have you ever created a small world?  
A small world is a miniaturized replica of a habitat, a place in a child's imagination, a world described literature, etc.  It is an opportunity to interact with characters that they may be familiar with or to learn about a topic they are curious about.  It is an opportunity for play.
When children are part of the process in making, it is more likely to be engaging.  Giving them the opportunity to direct a project can inspire confidence, particularly when they may have a similar task at school.  With you facilitating the practical portion, it is an opportunity to collaborate and show them how to access information and ways to use materials.
We are going to show you an example of a Bumblebee's Garden and give you a few tips to get you started on your very own small world for your home or classroom!
Materials
Recyclables (Cardboard, egg cartons)
Natural elements (rocks, sticks etc.)
Paint
Paper
Paintbrushes
Scissors
Pencil/eraser
Crafts supplies (E.g., gems, sequins and chenille sticks- go with whatever you have on hand!)
Tongs/ strawberry huller (Our daughter wanted to include this so she could act like a bee, collecting nectar and pollen.)
We always find these items helpful too:
Directions
1) Go with your child's interests.
The Bumblebee's Garden idea bloomed when our daughter peeled off a layer of cardboard, revealing a honeycomb corrugation inside this packaging.  This prompted the question- how do bees make the honey?
2) Research.
Gather information on your topic if you need to.  Some topics may just require delving into one's prior knowledge or imagination- brainstorming ideas.  Others might require looking in books or online.  Curiosity is important to cultivate.  Work on forming questions together, modelling, but allowing your child to drive the inquiry.  (E.g., What is a train track made of?  What other types of creatures might you find in pond? etc.).
3) Make
Make the components of your small world that you can.  This is a perfect way to re-purpose items from one's recycling bin (egg cartons, cardboard tubes etc.)  Use items that you already have available.
4)  Location
Where will you "house" your small world?  Will it be set out on a table?  Or would you prefer a container that can be easily moved?  We like to use a shallow storage bin that has a lid.  (This one is for under the bed storage.)  If you create more than one small world or use it for sensory or water play you can store the pieces in a plastic or cardboard shoe box and then rotate the themes into the bin.
5) Add
Augment your small world, filling in the details.  It can be an ever-evolving project where you start with a base and then add or subtract objects with whatever story lines develop.  Our daughter created grass, using glass gems.  She used natural elements that she found in our ravine and created stems from chenille sticks that she twisted around a pencil.  She added a bumblebee finger puppet, a butterfly puppet, a strawberry huller to use as tongs for collecting the nectar and pollen (sequins) to take back to the hive (as represented by the honeycomb).
6)  Play!
Invite a few friends and enjoy your kid-made small world!
Build Your Own Small World
Print this list of ideas:
Looking for more ideas to ignite imagination?
Stop by Make It Your Own for creative inspiration for your family.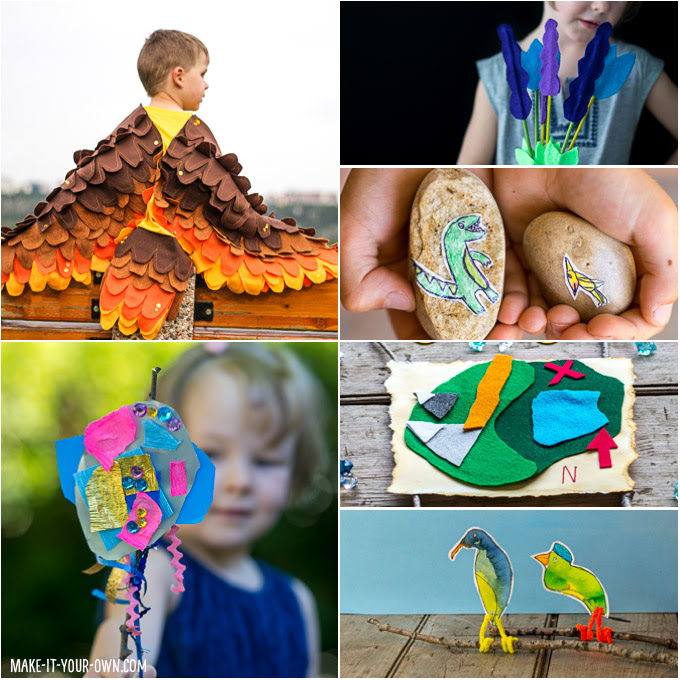 Ignite Imagination
Purpose
The potential for inquiry-based learning, socio-dramatic and constructive play.
Language development (interacting with others, acquiring new vocabulary).
Opportunities for cooperation, collaboration, problem-solving, seeing different perspectives.
Designing and executing plans (and making alterations).
Investigation and application of possible scientific topics and areas of social studies.
The excitement and enjoyment of using one's imagination.
Safety Notes
We suggest that you wear a smock and use a craft tray to protect your clothing and surfaces.
Use scissors with care and direct adult supervision.
Small objects can be a choking hazard, therefore be sure to keep them out of the reach of children ages 0-3 years of age or those that tend to put things into their mouths.
Make it Your Own is a place to explore both new ideas and re-envisioning others. With a background in interactivity and education, Bonnie and Gallen hope to get you and your children engaged in activities that extend the digital experience by outdoor exploration, creating etc..  Please join them and their children in collaboration.
Find Make It Your Own online here →
Blog | Facebook |  Instagram | Pinterest | YouTube
You Might Also Like
How to Plant a Honey Bee Garden With Kids
Pin this idea for later: