Finding adventure in everyday by Tiffiney Lozano of Wild Child Travels.

 There is no way to happiness, happiness is the way. -- Wayne Dyer
Not so long ago my husband and I felt stagnate; with life, with each other, with our jobs. So we made a drastic move.
We sold our house, all of our possessions (three cars, a camper, outdoor recreation gear and my impressive shoe collection), quit our jobs and bought the family one way tickets to Spain. In search of a live aboard sailboat and never-ending adventures, we assumed we'd rediscover our waning joie de vivre in a sunset on the other side of the globe.
But after over a year of traveling to far flung destinations, including Athens, Paros, Barcelona, and Oaxaca, I gradually opened to a profoundly simple truth.
Everything I had been searching for was in my own backyard all along.
Don't get me wrong. We found plenty of adventure and returned home with hearts full of gratitude for the new friends we'd met, exotic flavors we'd savored and beautiful landscapes we played and photographed ourselves in. My first grade son lost teeth in Barcelona, San Francisco and Mazatlan, the tooth fairy brought him euros, dollars and pesos, apparently she is a pretty international gal— and what special memories for a little guy.
But the joyful moments weren't what surprised me; I expected this. What surprised me was how excited I was to return home—to my life, to my community, to the everyday existence, I had so desperately wanted to escape.
I had assumed I would want all the excitement to never end. To always crave more, more, more. After all, we were on a pretty serious search for a sailboat, willing to give up our home so we could afford a home that could keep up with our wanderlust. And while we're still on a quest to one day buy a boat and sail the world, I'm no longer willing to sacrifice my appreciation for today in pursuit of the ever elusive 'more'.
If you've ever felt a twinge of Instagram envy while scrolling through another traveling family's feed, perhaps my take-aways after more than a year of nonstop travel will reassure you that the grass only appears greener, especially in the era of social media.
Here's my take on the matter:
1. What we're after is actually a feeling
I'm a huge fan of Danielle LaPorte's, The Desire Map. Her main premise is that everything we do, every goal we chase, we pursue because we are after the feeling that accomplishing that goal will create for us.
What was the feeling I was after with traveling?
Well, I was craving adventure, exploration, and excitement; and underneath that I was desperate for freedom. The freedom to spend my days doing things I enjoyed with no expectations or restrictions on my time. I wanted the freedom to live life on my terms.
I had felt trapped in our previous Northern California existence. We had a mortgage, inflexible work schedules and an oppressive load of monthly bills. I felt like I was on a treadmill—never getting ahead. The more we made, the more we spent. On crap we didn't need.
But here's the rub. I had created every bit of the life I wasn't enjoying.
Once we made the commitment to reduce our debt and make choices that aligned with our values—all of that changed. It wasn't the travel per se—but it was the freedom to say, "wouldn't it be cool to go to Greece?" And because we had whittled our life down to a suitcase per family member, we were agile enough to accept an offer to house-sit in Paros with only two weeks turnaround time.
Once I got clear on how I wanted to feel (ie Freedom!) it was like GPS guiding system everyday on how to spend my time and money. Do I need that cute new lamp at Target, or would I rather save that $30 towards a trip to Italy at the end of the year.
For it's become all about aligning every choice I make with how I want to feel in my life.
2. Time is our most precious resource
We didn't need to travel to far flung destinations to be present with one another. But we didn't know that until we did.
One of the pieces I am most grateful for after all our galavanting, was the bonding that happened as a result of circumstances beyond our control. For example a sweet moment of connection shared with my 4-year-old daughter as I folded her tired body into my arms on the all night ferry. Or an impromptu card game as we waited out a delayed flight. These are simple moments I can create anytime we need them. I realized it really boils down to me saying no to other perceived commitments and holding space for our family to be together with no expectations of how we need to spend our time.
Most of us first world parents have ourselves and our children scheduled six to seven days a week. I realized, the magic happens in those unscheduled moments, and I'm thinking twice now before I volunteer for an event or sign my kids up for another sport or activity.
3. Adventure is an attitude
This is deeply connected with the previous two points. When I have time to enjoy my surroundings, I see opportunities to create special experiences all around me. There's no reason I have to spend thousands of dollars and travel equally as many miles to create memories with my family.
When you're traveling everything is new and unknown, so it forces you to notice everything around you. From the sounds of the local dialect, to the flavors of new and exotic dishes—the newness makes us stop and take notice of our surroundings. Again, this is something that I can choose to do at home. I'm looking at our small mountain home in California with new eyes and noticing all the things I passed daily on my morning commute and never took the time to really soak in.
It hit me that I have a choice in how I approach my day and how I respond to unexpected circumstances. I love this quote from a sailor we met at a boat show in Alameda.
The difference between an adventure and an ordeal is attitude. -- Bob Bitchin
Next time I'm stuck in traffic with the kids in the backseat, I'll opt to turn up the radio and have an impromptu dance party, rather than gripe.
4. People and community are everything 
I'm as much of a romantic for gorgeous architecture and authentic regional delicacies as the next person, but after a certain amount of time, none of it means anything without the people who are important to you.
And while we had each other, it wasn't enough. We missed our community.
Over the last year and a half, we would meet other local and traveling families, but I found myself always craving that deeper sense of connection. The kind where you talked about more than just the weather and local events.
Just as I was getting to know someone, either we moved on or they did. The longest place we stayed was Oaxaca and my children attended a bilingual montessori school (this was our home base for 9 months, but we did a 2 month stint in Greece in the middle of that). This was by far the richest of all our experiences because we stayed in one place long enough to develop daily routines. We attended birthday parties, parenting meetings and had backyard barbecues like normal people.
Ironic that the place where we developed a daily rhythm was one of our favorite parts of "traveling."
. . .
So there you have it. After over a year on the go, I can't wait to get home and sink into the bliss of everyday routines and appreciating what I have.
We still plan on pursing that sailboat dream, and I have no doubt that one day we'll enjoy many beautiful sunsets from our floating home. But until then, I'm filled with gratitude to have a beautiful community filled with people whom we adore, and who love us right back.
I realized happiness isn't something we find, it's something we choose no matter our location on the map. 
I don't have to chase extraordinary moments to find happiness. It's right in front of me if I'm paying attention and practicing gratitude. -- Brenè Brown
Meet Tiffiney Lozano
Tiffiney is the publisher of the book Mama Said: Wit + Wisdom for New Mothers. She still dreams of sailing the world with her family one day, but for now she is grateful to be finding the adventure in the everyday, and is happy to have her almond milk lattes back after a year on the road.
Maybe you'd like to join her in taking the time to notice our surroundings and creating everyday adventures. Tag your photos with #wildchild and #everydayadventures, so she can find you!
Find Wild Child Travels online at: Blog | Instagram | Pinterest | Facebook | YouTube
You Might Also Like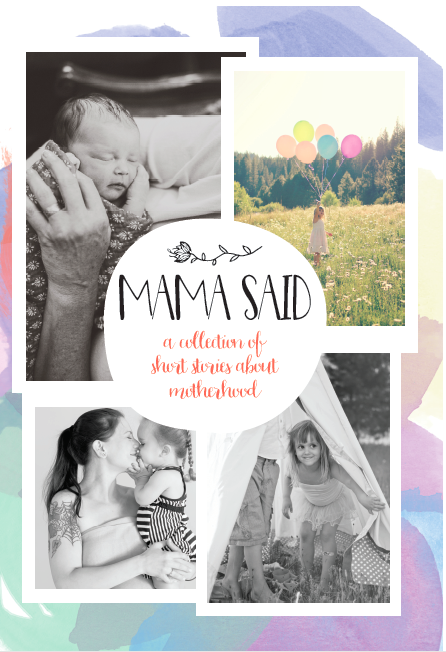 Mama Said: Wit + Wisdom for Mothers
A gorgeous and heartfelt tribute to the joys and frustrations of motherhood, Mama Said is a collection of personal narratives and artwork created by mothers, for mothers.
It's the book we wished we had when we first welcomed our babies into the world.
This beautifully illustrated text takes readers through the range of human emotions that come along with nurturing a tiny human. The stories invite mothers to jon their hearts in the sacred sisterhood of creation and go beyond the personal choices of how one mothers, and instead unearth the universal themes of love, fear, humanity and humor all mothers experience.
These brave women share their hopes, dreams, and doubts, as well as their laughter and tears on this journey through what it means to love another soul like you never thought possible.
Pin this post for later: