Valentine's Day is around the corner. This week we celebrate the holiday with Jessica from All She Cooks.
Check out six of her favorite holiday recipes below, including Chocolate Peanut Butter Pretzel Clusters.  Nom. Nom. Nom.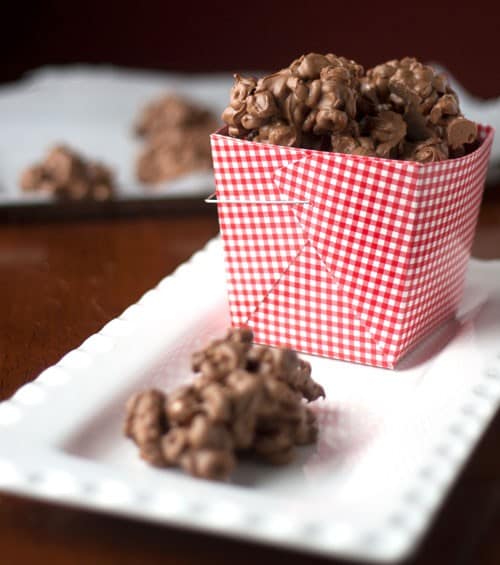 We've got sweets on the brain.  Valentine's Day is one of those times of year where my family comes together to whip up some favorite treats in the kitchen.
Below are 6 must-try chocolate treats!
Delicious treats that are hassle free and easy to prepare and that are yummy, crunchy and kid-friendly are the BEST. We make a lot of cereal treats (like Cheerios Snack Crunch and Mocha Puppy Chow), because I tend to buy cereal on sale and snack-food is one way to use it up in a non-breakfast way. Not only are cereal treats so good to eat, they are easy to make that kids can jump right in and help.
I love cooking for my kids. Cooking WITH kids is even more fun. Working in the kitchen with kids, or just having your kids in the kitchen to watch, is such a bonding opportunity. Not "cooking" can be fun, too.  For example, just making simple treats like fun and healthy Banana Split Kabobs is a blast.
Chocolate Pretzel Clusters
Chocolate Pretzel Clusters require just a few basic ingredients: pretzels, chocolate, cheerios, marshmallows, and sometimes peanuts.
This is a kitchen sink recipe: You can throw in what you have, when you have it, and mix it up differently the next time. You can switch up and experiment each and every time you make it.
Print the full recipe for Chocolate Pretzel Clusters below.
Chocolate Peanut Butter Pretzel Clusters
Author:
Jessica McCoy | All She Cooks
This is one of those delicious kitchen sink recipes. You can throw in what you have, when you have it, and mix it up differently the next time. That makes this recipe something that you can switch up and make new each and every time you mix it up.
Ingredients
1 cup pretzel pieces
¾ cup cheerios
½ cup mini-marshmallows
1 cup chocolate chips, melted
1 cup Reese's peanut butter chips, melted
Instructions
Break pretzels into pieces. Mix together with cheerios and mini-marshmallows.
Melt chocolate chips and peanut butter chips together by microwaving in glass bowl for a minute. After one minute, stir chips and microwave for 30 seconds at a time stirring in between.
Pour melted chips into pretzel mix and stir to combine.
Drop spoonfuls of the chocolate covered mixture onto wax or parchment paper and let sit for a few hours to harde
Notes
Amount made varies depending on size.
Pack these up these little treats in a cute little gingham gift box, and you've got a perfect Valentine's gift for a teacher or neighbor. These Chocolate Peanut Butter Pretzel Clusters are so simple… your kids can make them almost all by themselves.
What would be better than a sweet treat that your child helped to make? Chocolate is the perfect holiday gift!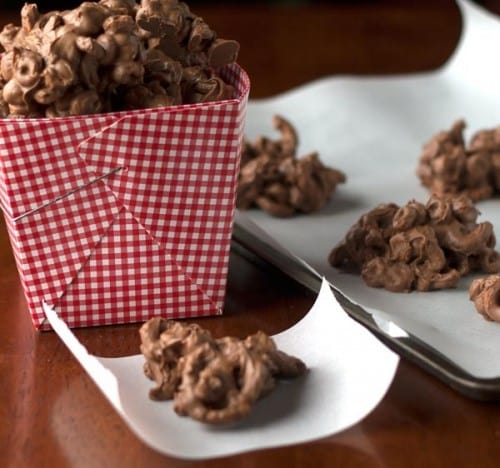 Here are the five remaining must-try chocolate holiday treats. ENJOY.

Be sure to check out All She Cooks latest series 52-Weks of No Repeat Meal Plans and her eBook:
Meet Jessica
Jessica shares her passion for recipe development, food photography, and creating fun treats for my favorite taste-testers (aka her family) over on All She Cooks.
Find her online sharing recipes here →
Blog | Facebook | Google+ | Pinterest | Twitter
| | |
| --- | --- |
| Pin it: | |
| | |