Today we review one of my favorite children's movies, Matilda. Get the skinny on the flick and book below along with 4 additional must-read Roald Dahl movie pairings.
I'd like to take a moment to introduce you to one of our new contributors. We are proud to have one of the 20 Must Follow Moms, Tiffany Dahle from over at Peanut Blossom, sharing each month here on Let's Lasso the Moon.
Tiffany and I share a love for three important things (a) a good book, (b) a well done movie and (c) popcorn. Yes, popcorn! In case you don't already know at my house we eat popcorn for dinner *every* Friday.
If you are on Pinterest, you may have recently seen Tiffany's Birthday Cake Popcorn pin. It's gone viral and even become controversial. Who knew popcorn could spark such a heated discussion? Trust me when I say the recipe is delicious!

Tiffany shares this review with you in honor of Roald Dahl's birthday (September 13, 1916). We are lucky to have such wonderful work to share with our children.
5 Must-Read Roald Dahl Movie Pairings

I am a huge Roald Dahl fan. I remember devouring each of his books, one right after the other, from our school library when I was young. With those fond memories in mind, I could not wait to begin sharing those same tales with my daughter. The trouble was which one to pick first?!
I've  seen each of the movies made from his imaginative stories and by far my favorite adaptation is "Matilda" even though that happens to be the one book I happened to miss out on as a child. Oddly enough, we currently own a copy of the book thanks to an awesome baby gift. I thought it would be the perfect place to start since I selfishly wanted to see how the book & movie compared.
We haven't yet had to tackle the age-old battle between the original version of a book vs. Hollywood's adapted version. When we were nearing the end of reading the book out loud together, we picked up a copy of the movie from our library.
We closed the book after finishing the last chapter at 3 p.m., popped our popcorn, and started the movie at 4 p.m. on a Friday night. I wouldn't normally recommend having a viewing of a movie adaptation so soon after the book but we were far too excited to wait.
With the plot of the book so fresh in our minds, I was curious to see how my daughter would handle the significant changes between the two versions of the story.
I personally love the movie version which stars Mara Wilson & Danny DeVito. I've seen it several times before and it is very faithful to Roald Dahl's colorful and imaginative storytelling style. The plot points that differ from the book truly do enhance the movie. They take what is otherwise a fairly short story and add enough details to flesh out some motivation for the adults that is somewhat missing in the book's plot.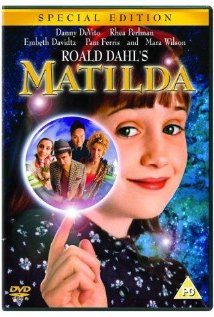 My 5 year old had a much easier time understanding the story line with the movie than the book. It could be due to the fact that she was getting the same tale repeated a second time and knew what to expect, but I do think the acting and delivery of the dialogue made an enormous difference.
A few scenes were significantly scarier than the book but she handled them just fine with no nightmares that evening. She also cheered loudly at the end of the movie, a true sign of captivation!
All in all, it was exactly the introduction to Mr. Dahl I had been hoping for and she was more than eager to move on to his next tale.
5 Must-Read Roald Dahl Movie Pairings:
Matilda:You've read my movie review above. If you'd like to see my review of "Matilda" the book and learn why I feel it is so important to read aloud to children of all ages, please join the discussion over on Peanut Blossom.
The Witches: 1990 Movie featuring Anjelica Huston
The Fantastic Mr. Fox: Academy Award nominated movie starring George Clooney
James & the Giant Peach: 1996 Disney movie
Charlie & the Chocolate Factory (aka: the oh so obvious): I just can't even acknowledge the Johnny Depp version and can only recommend the original movie.
I'm still waiting for the day when they turn "The BFG" into a movie. That was the book we turned to right after Matilda and remains one of my personal childhood favorites to this day!
How do your children handle book to movie adaptations?
Have you purposely tried to compare the two yet?
Feel free to leave me some reading suggestions in the comments. I'm always looking for our next great read!

About Tiffany Dahle
Tiffany believes strong families start with strong and happy mothers. Too often as women we put everyone's needs before our own. At Peanut Blossom, she encourages you to develop everyday possibilities for stretching your creativity while doing what you do to keep that household running! She strives to help mothers and teach her own children that having kids does not mean the end of your own personal growth and learning.
Find Peanut Blossom online at: Blog | Pinterest | Facebook | Twitter | Google+